Dr. Tapashi Gupta
The most common hazard in forests is forests fire. Forests fires are as old as the forests themselves. They pose a threat not only to the forest wealth but also to the entire regime to fauna and flora seriously disturbing the bio-diversity and the ecology and environment of a region. Massive forest fires have broken out in several partsof Mizoram damaging vast tracts of land and vegetation.The fire broke out on April 24 in the general area of Veng College in Lunglei and spread towards Serkawn and Zotlang areas.
For more than 40 hours, a forest fire has been raging in the hills of south Mizoram, spreading to towns and villages of two neighbouring districts, Lunglei and its adjacent areas.
Firefighters from the state government, with the help of Assam Rifles and Border Security Force personnel and local volunteer groups have been trying hard to put the fire out, authorities said.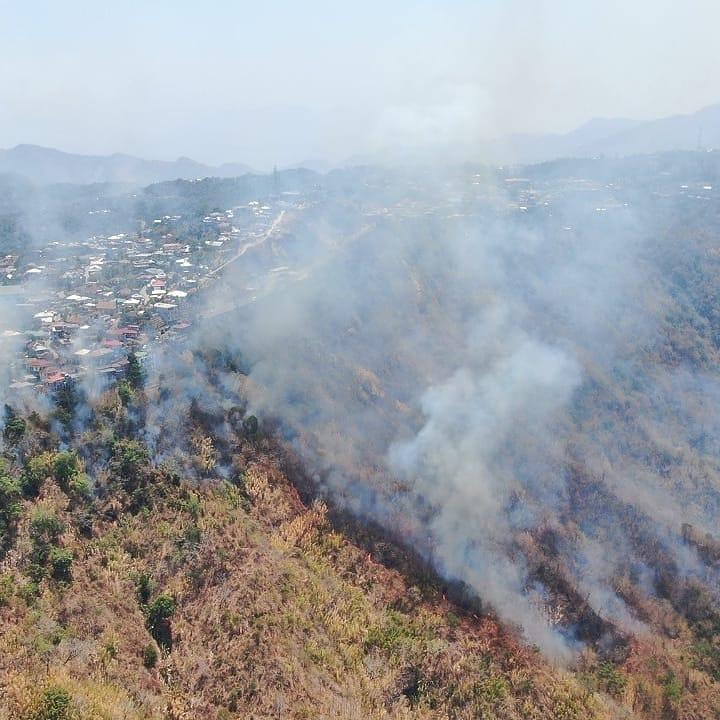 No human casualty has, however, been reported so far but detailed reports are yet to come in from the affected districts, the official said. Zoramthanga has requested Indian Air Force for help and the IAF is deploying two helicopters to douse the blaze at Lunglei and surrounding areas, the defence ministry said. Lunglei is the worst affected and the state government will probe the cause of the forest fire as it is suspected to be man made, the official said.
Meanwhile, speaking to the media, Lunglei district deputy commissioner M Misael said that a massive forest fire broke at Saisih forest area in the outskirts of Lunglei town between 6 am and 7 am on Saturday. It spread to Lunglei town on Sunday.
Mizoram fights with fire for Day-3 in Lunglei, Assam Rifles & IAF Efforts On to Bring Fire Under Control Lunglei DC M Misael said that a massive forest fire broke at Saisih forest area in the outskirts of Lunglei town. The wildfire in the Lunglei district of Mizoram entered day 3 damaging vast tracts of land and vegetation made bound Chief Minister Zoramthanga to seek central help. It spread to Lunglei town on Sunday. Indian Air Force (IAF) to deploy two copters According to reports, a major fire broke out on 24 Apr 2021 in Gen A College Veng, started spreading further towards Serkawn and Zotlang Area of Lunglei. On 25 Apr 2021 morning, it further extended to Lunglei main town towards the residential area of Zotlang. One more party was sent to the affected area near BSF. It reached the main town of Lunglei, Mizoram. Thereafter the fire was controlled by the Fire Fighters, Assam Rifles troops, and locals. In the afternoon the fire extended towards the Chanmari area and Valley below ( Forest Area).
Areas Affected (a) Bazar Veng (b) Serkawn (c) Zotlang (d) Chanmari (e) Ramthar.
Fire is under control near the residential Areas. However, still increasing in the valley below Chanmari. Assam Rifles is working relentlessly along with the district administration to douse the fire and prevent it from spreading further. (a) All the parties with strength continuously provided assistance in a firefight. (b) A continuous medical team under RMO was on stand-by in town for any medical emergency. (c) Commandant attended the District level Disaster Management meeting at DC office where Assam Rifles assistance was assured in all possible ways. Coordinates of Both the Helipads at Lunglei were also shared with Civil authorities and were completely activated for any Heptr Landing.