Bangladesh Commerce Minister Tipu Munshi, who, along with his team, arrived in Mizoram on Friday , to take stock of proposed border trade projects, reached Lunglei District via helicopter yesterday to visit the site of proposed Integrated Check Post (ICP) at Kawrpuichhuah, Tlabung on the Indo-Bangladesh border in Lunglei District.
The Bangladesh Commerce Minister was accompanied by Mizoram C&I Minister Dr R. Lalthangliana, C&I Commissioner Pi Esther Lalruatkimi, Mr. Md. Abdus Samad Al Azad, Joint Secretary (FTA-1) Ministry of Commerce, Bangladesh, Dr. AKM Atiqul Haque, Minister (Commercial), Joint Secretary, Bangladesh High Commission, New Delhi and were received at Tlabung by Tuipui West MLA Pu Nihar Kanti Chakma, Lunglei South MLA Dr K Pachhunga, Lunglei DC Pu Kulothungan A, Lunglei SP Pu Rex Zarzoliana Vanchhawng, representatives of NGOs, civil society groups, journalists and the public.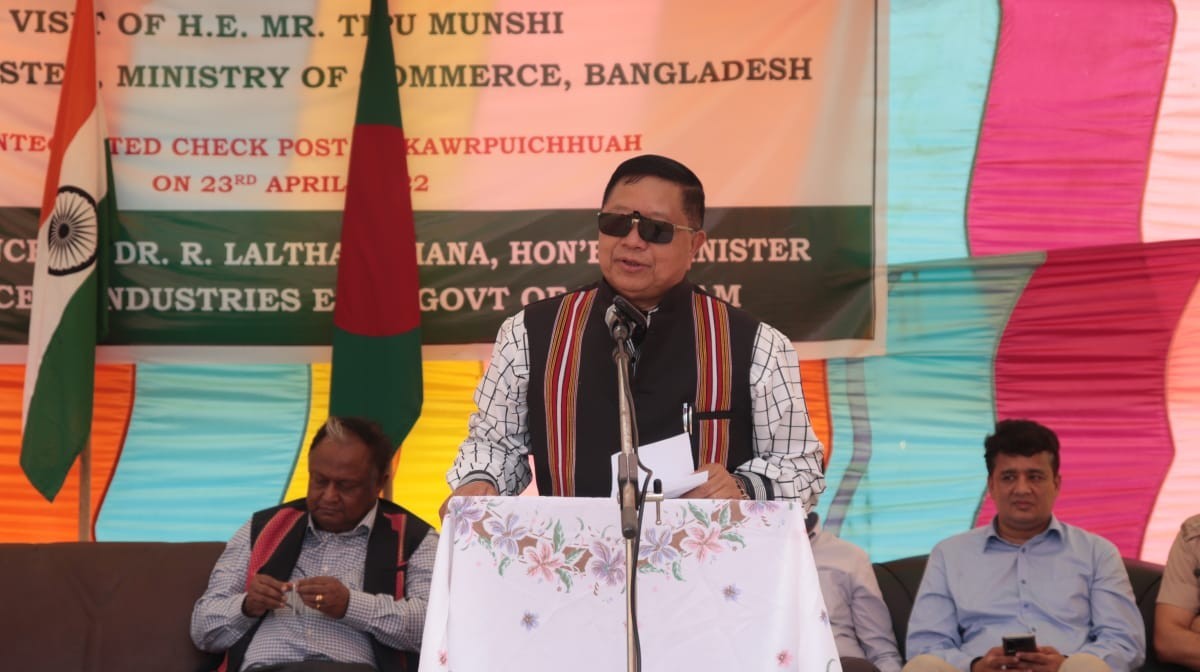 The team had earlier in the day visited proposed border haat sites within Mamit District in Northern Mizoram, where the Ministers jointly laid the foundation stone for a border haat at Sajek. Mizoram's 318-km international border with Bangladesh falls within three Districts – Lunglei, Mamit and Lawngtlai.
A public gathering was organized at Kawrpuichhuah in honour of the historic visit, with speeches from both Ministers, and cultural programs by members of Young Mizo Association and Young Chakma Association.
Greeting the people of Mizoram and the gathering at Kawrpuichhuah, Tipu Munshi stated that Bangladesh is very keen to foster closer ties, and expand trade relations with states along the Indo-Bangladesh border. He commended the Mizoram Government for various border trade related infrastructure developments, and stressed that Bangladesh is also committed to expedite infrastructure developments at their end.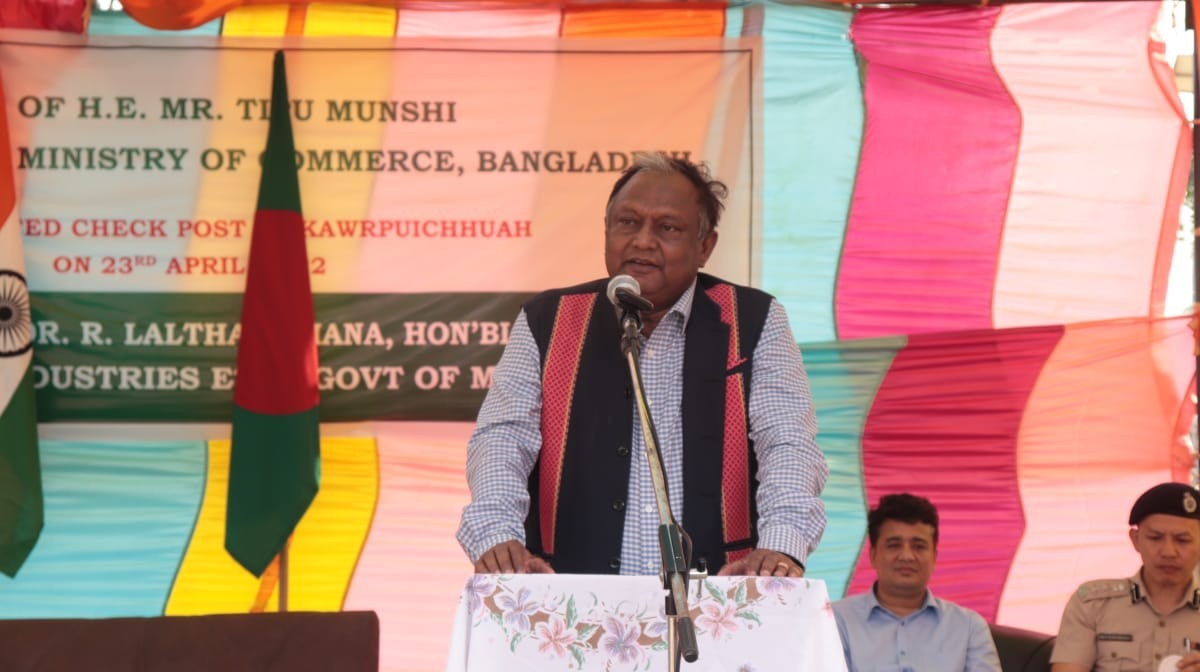 He said that Bangladesh is very interested to import vegetables and certain local products from Mizoram such as banana, chili and boulder, among others. He also expressed hope that the proposed bilateral trade will cement ties between Bangladesh and Mizoram, besides bringing economic benefits to both parties.
He thanked people of Mizoram for the warm reception accorded to his team, and stated that upon his return to Dhaka, he intends to apprise the details of the successful visit to Prime Minister Smt Sheikh Hasina, and also discuss further plan of action with her.
Dr R Lalthangliana, Commerce & Industries (C&I) Minister Mizoram, who also addressed the gathering, stated that the proposed ICP at Kawrpuichhuah has the potential to become a major trade corridor between India and Bangladesh. He outlined various initiatives of the Mizoram Government at both the Bangladesh and Myanmar borders, and stressed that developing border trade and related infrastructure is one of the main priorities of the Mizoram Government.
Dr R Lalthangliana and his team had earlier visited Bangladesh in March of last year, and had met with the Commerce Minister Shri Tipu Munshi to discuss various ongoing border trade projects and related issues.
The survey report for Kawrpuichhuah ICP was submitted by M/s Rites Ltd to the Union Home Ministry in 2005 and 224.99 bigha land has already been acquired for the purpose. The Mizoram Government has also set up a Trade Facilitation Centre in Tlabung town, 18 kms from Kawrpuichhuah.
On January 17, 2020, the Mizoram PWD had submitted a detailed project report (DPR) amounting to Rs 230 crores to Union Ministry of External Affairs for the construction of a 660 metres long double lane concrete bridge over Kawrpui river to link Kawrpuichhuah with Bangladesh.
The double lane 18 kms stretch of Tlabung-Kawrpuichhuah Road has already been completed by ABCI Infrastructures Pvt Ltd. Another important component of the project, widening and repair of the 100kms road between Tlabung and Lunglei, the District capital has commenced recently, with related land survey work already being completed.