In celebration of Azadi Ka Amrit Mahotsav "North East Festival", a Roundtable on Bamboo was organized by Horticulture Department at Aijal Club today. Horticulture Development Vice Chairman Prof. F.Lalnunmawia graced the occasion as the Chief Guest.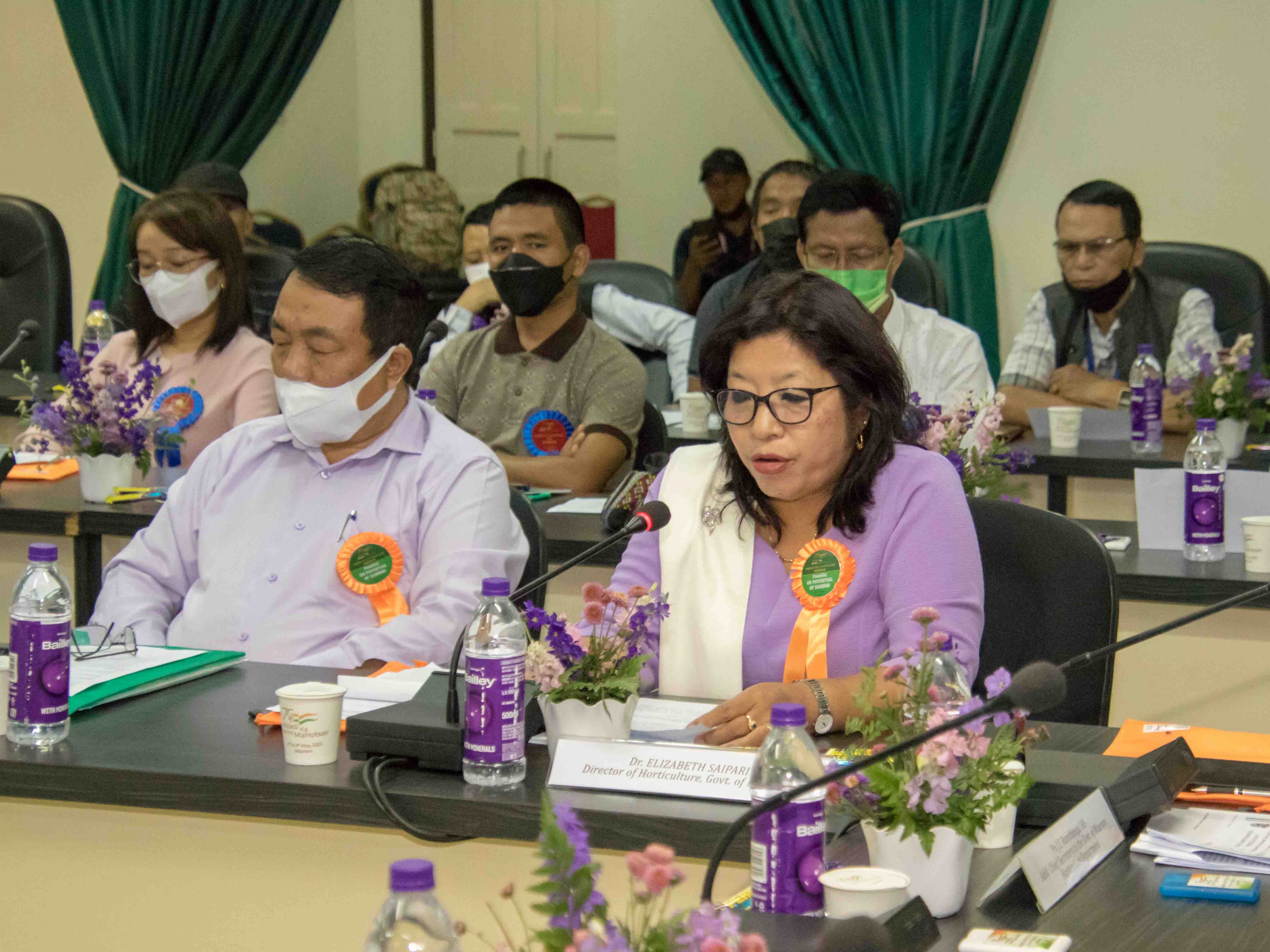 Addressing the occasion, Prof. F. Lalnunmawia, MLA said that the government has prioritized bamboo development as envisioned by Chief Minister Pu Zoramthanga. He added that the Department of Horticulture, as a nodal department, had taken initiatives in bamboo development for the last two years in spite of several constraints due Covid-19 pandemic. He remarked that a pilot project for bamboo plantations concentrating on large bamboo species viz. Dendrobium brandisii and Dendrocalamus sikkimensis hold great promise. Similarly a Pilot Project on Bamboo link road, the first of its kind in the country sanctioned by the Government of India, initiated by the Chief Minister would connect the bamboo potential areas in Mizoram with all-weathered roads, he further remarked.
Speaking about the bamboo resources, he said, estimates place about 28% of bamboo resources of the country in the north-eastern region; out of the total forest area, about 12.8% is under bamboo, and two third of the growing stock is located in the north-eastern states, he further said. He pointed that Mizoram possesses the maximum percentage of its geographical area under bamboo forests as compared to other states. However, a major portion of the bamboo resources remains untapped and unutilized due to several reasons regarding problems in harvest and transportation of bamboo/ poor road connectivity; lack of technology and industrial infrastructures for value addition of the raw bamboo resources, he further said. He noted that the majority of Mizoram's natural bamboos i.e. M.bacccifera does not meet the requirement as bamboo ply-board for construction purpose. He highlighted that due to this, the state government has taken initiatives for plantation of large size bamboo in the potential areas.
Prof. F.Lalnunmawia further said that scientists, experts and entrepreneurs in bamboo processing gathered to discuss the current status, issues and scope of bamboo development in the state will provide a platform for the interaction of Scientists/experts and entrepreneurs as well as officials of the state government to address certain issues. He thanked the National Bamboo Mission and North Eastern Council for giving financial assistance for the bamboo development project. He mentioned that discussions of round table conference on bamboo as a part of Azadi Ka Amrit Mahotsav would help pave the way forward for bamboo development in the state which in turn can boost the economy of the state and also augment the state's efforts to promote and upscale bamboo industries.
Pu JC Ramthanga, Addl. Chief Secretary delivered the welcome speech while Dr Elizabeth Saipari, Director of Horticulture & Mission Director, State Bamboo Mission talked about the Bamboo Mission in Mizoram. Dr. Carmelita Lalchhanhimi Pachuau presented a paper titled 'Role and Potential of Bamboo'. Dr. Avanish Kumar Srivastava, Director, CSIR-AMPRI also presented a paper titled 'Bamboo Composite Research and Application in the Development of North East'.
The Roundtable on Bamboo was moderated by Pu L. Lalhmingmawia Pachuau, Joint Director, Horticulture Department. Panel included scientists and professors from CSIR, National Bamboo Mission, CSIR-AMPRI, Manipur University, Tripura Bamboo Mission etc and participants from N. Delhi, Tamil Nadu also took part in the discussions virtually.