Union Minister of State for Ministries of Information & Broadcasting and Fisheries, Animal Husbandry & Dairying, Dr. L Murugan on his first day of visit in Meghalaya took stock of fish farming sites in the northeastern State and interacted with the fish farmers and beneficiaries of various government schemes under the Department of Fisheries.
The Minister visited a fish farm at Umeit village in Ri-Bhoi district and interacted with the farmers and discussed the various farming activities carried out by them. He encouraged locals to pursue fish farming and generate employment opportunities for the local community. Dr. Murugan also held a discussion with fish farming trainees at the Meghalaya State Fisheries Research and Training Institute at Mawpun Kshaid, Ri-Bhoi district. He also visited a site in Umiam lake where fish seeds are released to Umiam river.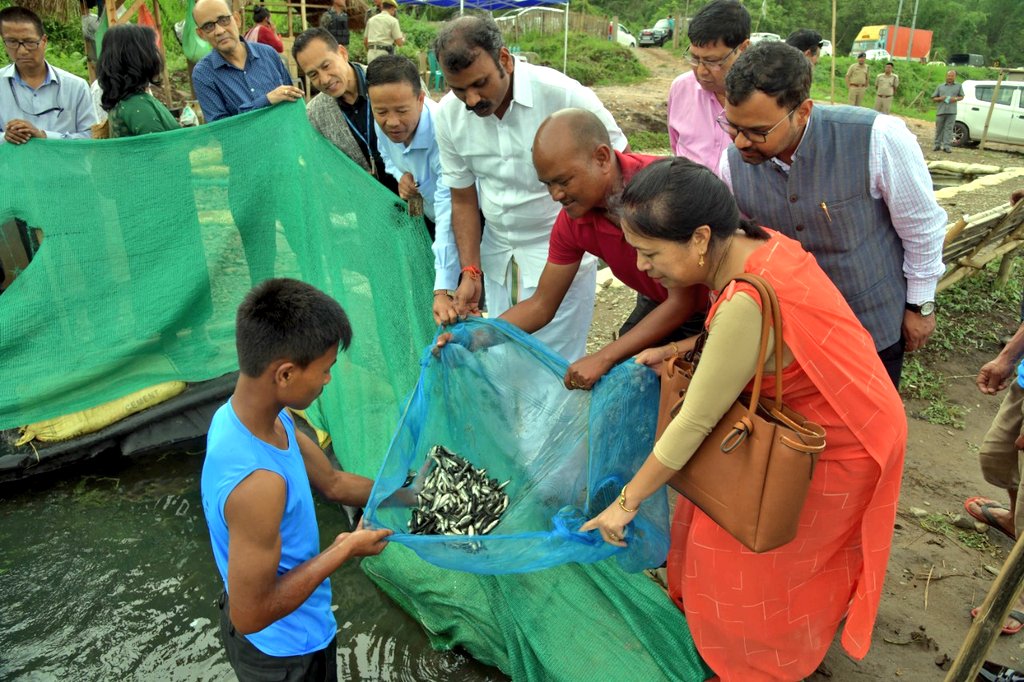 Speaking about the Pradhan Mantri Matsya Sampada Yojana (PMMSY), Dr. Murugan said that the central government's focus lies on infrastructural development in the fisheries sector of the country. "Prime Minister Narendra Modi had brought in the Prime Minister's Fisheries Infrastructure Fund to aid entrepreneurs," he stated while highlighting the various facilities available for benefitting individual entrepreneurs in fish farming such as ice storage, cold storage, processing units, etc. He urged the fish farmers to capitalise on the opportunities provided by the government.
The Minister, while interacting with the fish farmers spoke in detail about PMMSY, the flagship scheme for focused and sustainable development of fisheries sector in the country. The scheme was launched with the highest ever investment of Rs. 20,000 crore in this sector for a period of 5 years with effect from 2020-21 to 2024-25 in all the States/Union Territories. "We are concentrating on inland fisheries like RAS, river ranching. Recently, in Brahmaputra we carried out river ranching," added the Minister.
Dr. Murugan stressed on the rising demand for exports from India. "PM has given importance to Vocal for local," he said, adding that PMMSY aims at enhancing fish production by an additional 70 lakh tonne by 2024-25, increasing fisheries export earnings to Rs.1,00,000 crore by 2024-25. Despite the setback due to COVID-19 the country has been able to achieve around Rs 59, 000 crore export of fish produce during this year.
PMMSY is designed to address the critical gaps in fish production and productivity, quality, technology, post-harvest infrastructure and management, modernization and strengthening of value chain, traceability, establishing a robust fisheries management framework and fishers' welfare. While aiming to consolidate the achievements of Blue Revolution Scheme, PMMSY envisages many new interventions such as fishing vessel insurance, support for new/up-gradation of fishing vessels/boats, Bio-toilets, Aquaculture in saline/alkaline areas, Sagar Mitras, FFPOs/Cs, Nucleus Breeding Centres, Fisheries and Aquaculture start-ups, Incubators, Integrated Aqua parks, Integrated coastal fishing villages development, Aquatic Laboratories Network and Extension Services, Traceability, Certification and Accreditation, RAS, Biofloc & Cage Culture, E-Trading/Marketing, Fisheries Management Plans, etc.
During an interaction with the media, Dr. Murugan expressed his delight in visiting Meghalaya and briefed about the various schemes that are being implemented under his Ministries. The Minister reiterated Prime Minister Narendra Modi's mantra, which is "seva with transformation" and said that welfare of the poor is the motto of the government that has completed eight years.
He also informed about the upcoming mobile veterinary units that will be sponsored centrally and funds will be provided to States under the animal husbandry department. "We are encouraging startups, entrepreneurs," and extended his gratitude to Prime Minister Narendra Modi for bringing in major schemes for development across the country.
The Minister is on a two-day visit to Meghalaya starting today. During his stay, the Minister will visit various project sites to review the fishery infrastructure, and implementation of Pradhan Mantri Matsya Sampada Yojana (PMMSY) as well as schemes of Animal Husbandry in the State. The Minister will also be interacting with the beneficiaries in Shillong.
Dr. Murugan has also scheduled a visit to the All India Radio, Cherrapunjee. He will be interacting with the officials of the departments under the Ministry of I & B and Animal Husbandry & Fisheries.