Union Minister of Civil Aviation, Jyotiraditya Scindia has yesterday informed TMC Rajya Sabha MP Sushmita Dev that there is no proposal for a greenfield airport in Cachar district of Assam so far, and that any initiation would follow official format in the future course of time.
Team NE India Broadcast had on 12th May this year reported of the initiation by the Government of Assam for a new airport at Barak Valley's Cachar, following which Daloo Tea Garden faced a massive eviction drive yesterday.
"I would like to inform you that Government of India (Gol) has formulated a Greenfield Airports (GFA) Policy, 2008 under which an airport developer or the respective State Government willing to establish a Greenfield airport is required to send proposal to the Ministry of Civil Aviation (MoCA) in the prescribed format available at www.civilaviation.gov.in for 2 stage process i.e., 'Site Clearance' followed by 'In-Principle' approval.", reads a letter by Scindia addressed to MP Sushmita Dev. Later TMC Rajya Sabha MP Sushmita Dev infromed it on Twitter.
It adds, "Till date, no proposal as per GFA Policy, 2008 to construct a Greenfield airport in Cachar District of Assam has been received in the Ministry."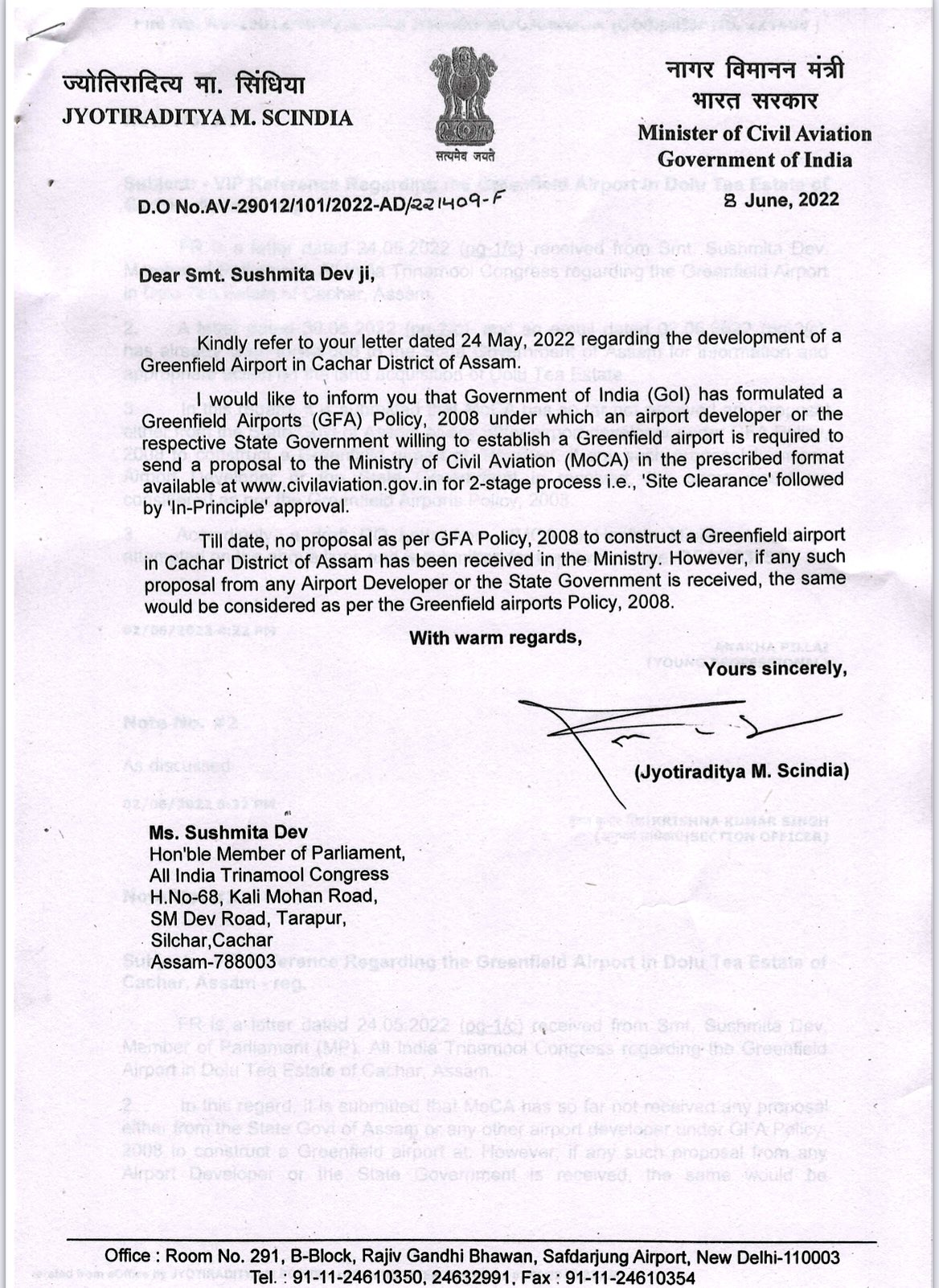 It further adds, "However, if any such proposal from any Airport Developer or the State Government is received, the same would be considered as per the Greenfield airports Policy, 2008."
Supposedly, over three million plants were to be uprooted to construct the greenfield airport. There were a lot of reactions coming in, after the authorities took up the drive.
Team NE India Broadcast had also reported that the Bharatiya Janata Party (BJP)-led state government has estimated to pay a sum of ₹50 crore to build the airport using 2500 bigha land of the tea garden. The owner has also agreed to go ahead with the deal.
Meanwhile, CM Himanta Biswa Sarma had in February this year announced that an airport will be built using a part of Daloo tea garden. It is as a part of developmental initiatives by the BJP-led government.
However, over 2000 workers of Cachar's Daloo Tea Garden were protesting against it. They had been protesting since the announcement of the project, and concerned officials of the Cachar district administration reached out to them several times to convince them. But no positive!
"It was done to build confidence because the government is planning to construct a huge airport. We do not intend to create fear amongst workers at all," said Cachar SP Ramandeep Kaur to the media persons.
The Ministry of Civil Aviation is located at Rajiv Gandhi Bhavan at the Safdarjung Airport in New Delhi; it is responsible for formulation of national policies and programmes for the development and regulation of the Civil Aviation sector in the country.
Also, this Ministry exercises administrative control over attached and autonomous organizations like the Directorate General of Civil Aviation, Bureau of Civil Aviation Security and Indira Gandhi Rashtriya Uran Akademi and affiliated Public Sector Undertakings like Airports Authority of India and Pawan Hans Helicopters Limited.