Lunglei District observed World Blood Donor Day 2022 today with a short formal function and blood donation camp at Govt Leitlangpuii HSS jointly organized by Association for Voluntary Blood Donation (AVBD), Lunglei Branch, MSACS and NSS Unit Govt Leitlangpuii HSS.

Lunglei Medical Superintendent & Lunglei AVBD President reported that Lunglei District has made great strides towards of voluntary blood donation, and that the total 3557 units of blood received at Civil Hospital & Christian Hospital Serkawn blood banks last year (2021), 98.48% was voluntary. He lauded the voluntary spirit of Mizo people, and stated that it is indeed a matter of great pride for the State that the cause of blood donation has been strongly taken up by the Government, educational institutes, Churches and various NGOs. Association for Voluntary Blood Donation (AVBD Lunglei) was founded in the year 2001, and for the past 20 years, has been at the forefront of voluntary blood donation initiatives across the District. In partnership with the two blood banks in the District – Civil Hospital Blood Bank and Christian Hospital Serkawn Blood Bank, AVBD Lunglei organizes awareness campaigns, blood donation camps and various drives across the District.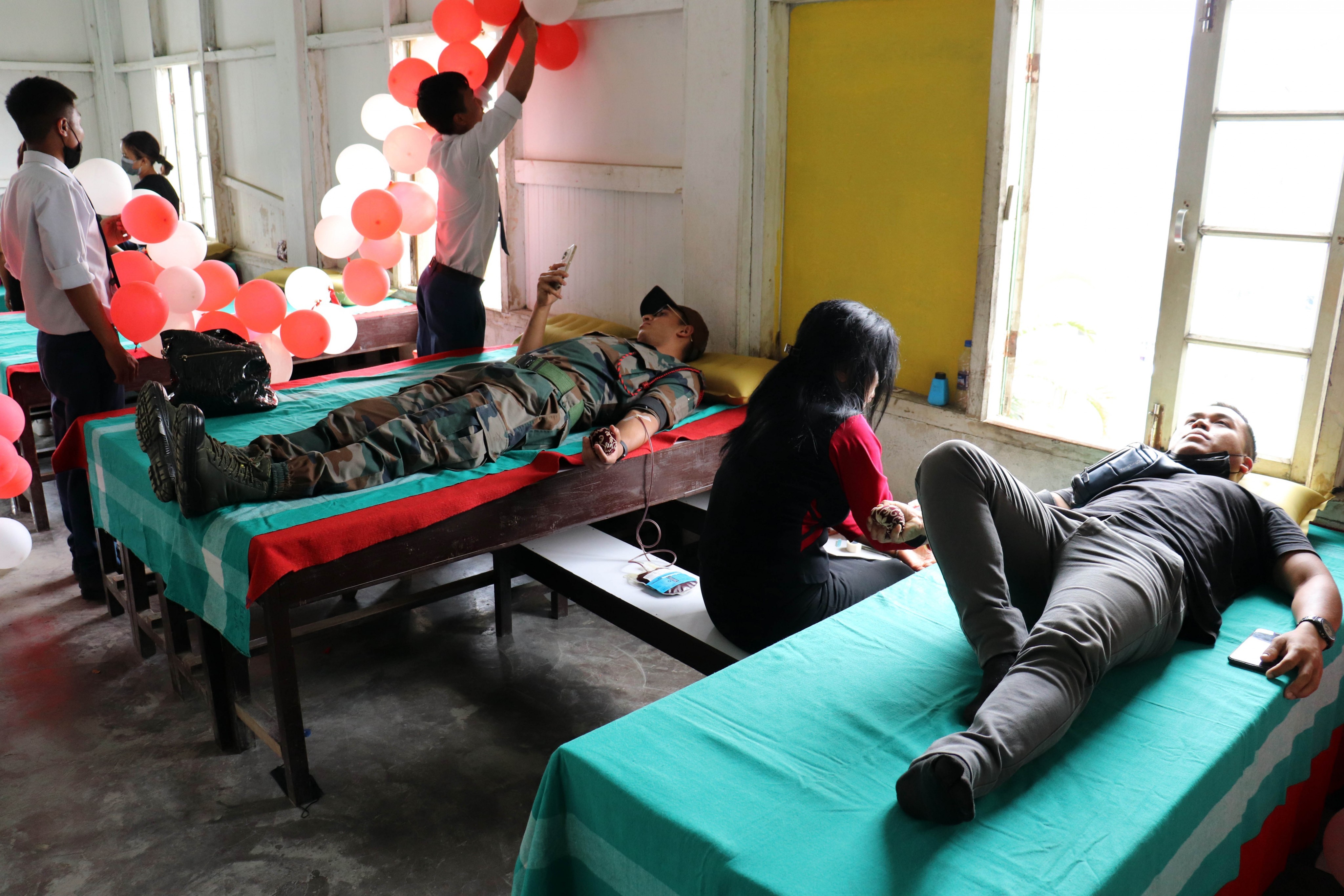 The record holders for blood donation in Lunglei District – NG Lalbiakdiki, Bazar Veng Lunglei (30 Units) & Lalhmingchhuanga Chhangte, Bazar Veng Lunglei (53 Units) were honoured at the program.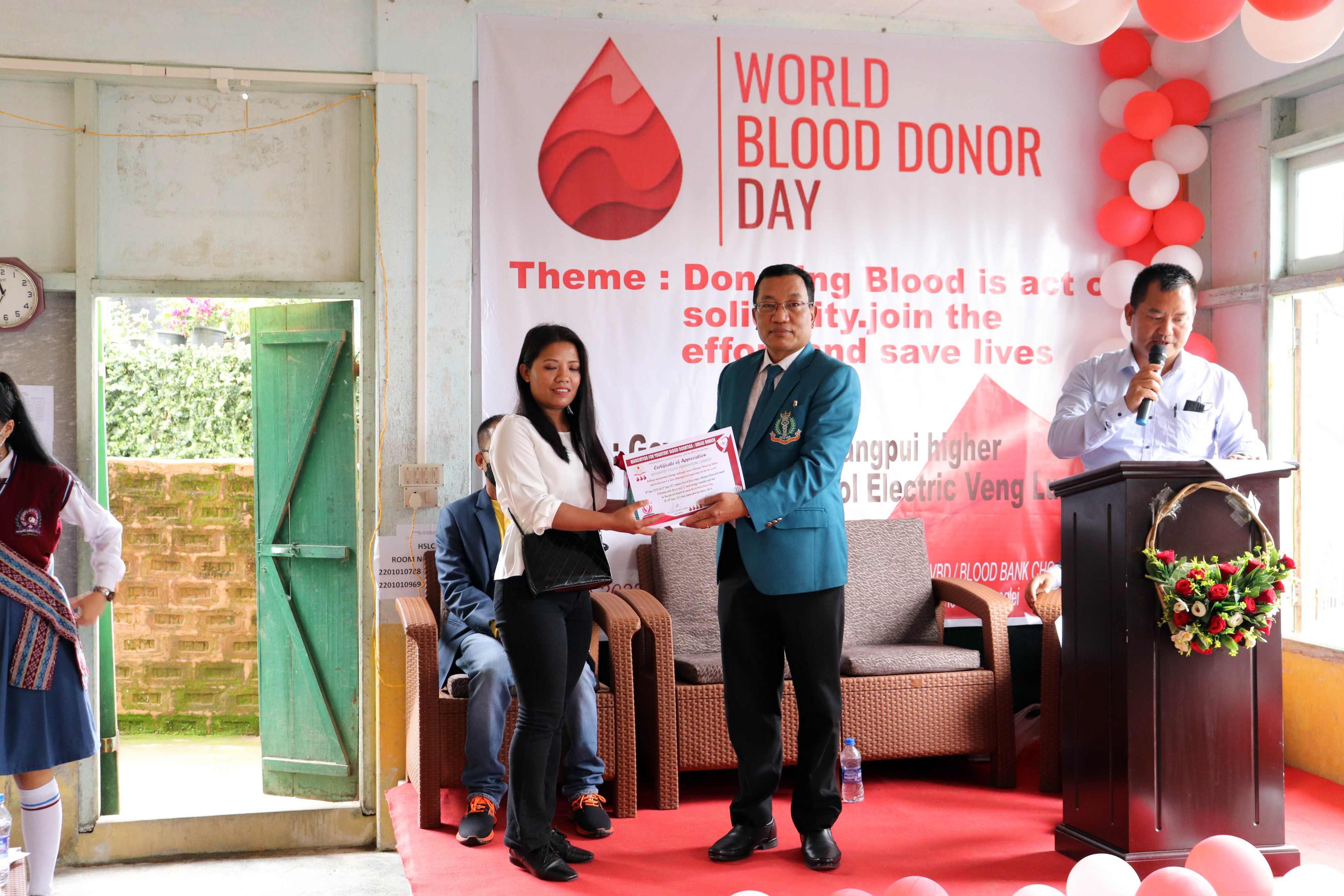 Awards were also handed out in various categories as below:

I – CHURCH BASE
1st – Bazar Pastor Bial TKP – 304 Units
2nd – Chhipphir Pastor bial TKP – 145 Units
3rd – Adventist Youth Federation, Lunglei – 137 units
II – INSTITUTION BASE
1st – Lunglei Government College, NSS unit – 139 Units
2nd – BHSS Serkawn, NSS Unit – 67 Units
3rd – Govt Higher Secondary School Lunglei – 53 Units

III – NGO BASE
1st – Haulawng Branch YMA – 75 Units
2nd – Serkawn Branch YMA – 64 Units
3rd – Sub Hqrs YMA Hnahthial – 44 Units

IV – OTHER BASE
1st – John Williams Hospital – 87 Units
2nd – LDSC Lunglei – 68 Units
3rd – HQ COY 3(NH) BR Assam Rifles & B +ve Group Lunglei – 8 Units each.
Christian Hospital Serkawn blood bank is also organizing a blood donation camp at BHSS Serkawn in honor of World Blood Donor Day 2022.
For 2022, the slogan is "Donating blood is an act of solidarity. Join the effort and save lives". According to the WHO, the theme will put light on the roles that voluntary blood donation plays in saving lives every year across the globe. One of the main objectives of the slogan is to thank blood donors across the world and create wider public awareness of the need for regular, unpaid blood donations.
World Blood Donor Day marks the birth anniversary of Karl Landsteiner, winner of Nobel Prize for Medicine in 1930, who first distinguished human blood into A, B, AB and O groups.
Attendees of the World Blood Donor Day 2022 undertook a pledge as below:
'Keeping in view the huge need of blood in India, I also undertake to create awareness amongst my family members, friends, relatives, colleagues and public about the need for regular, voluntary unpaid blood donation.
Along with this, I also undertake, that whenever someone is in need of blood, I shall donate blood at my own expense without any greed, free from caste-religion discrimination.