Today marked the momentous unveiling of the Honour Run, not just an athletic event, but a tribute, a statement, and a celebration. The impressive Curtain Raiser event held at the Manekshaw Centre showcased this initiative's vision: To build a strong bridge between our gallant soldiers, veterans, and the citizens of India. This event is designed as a unique platform for mutual experiences and respect.
Lieutenant General M.V. Suchindra Kumar, Vice Chief of the Army Staff, proudly announced the event, highlighting the intrinsic value of recognizing the unmatched bravery and sacrifices of our soldiers. He stressed the Honour Run's role in allowing citizens to closely engage with our veterans, hearing tales of valour and camaraderie. In return, our veterans get the opportunity to appreciate the indispensable contributions of ordinary citizens towards nation-building.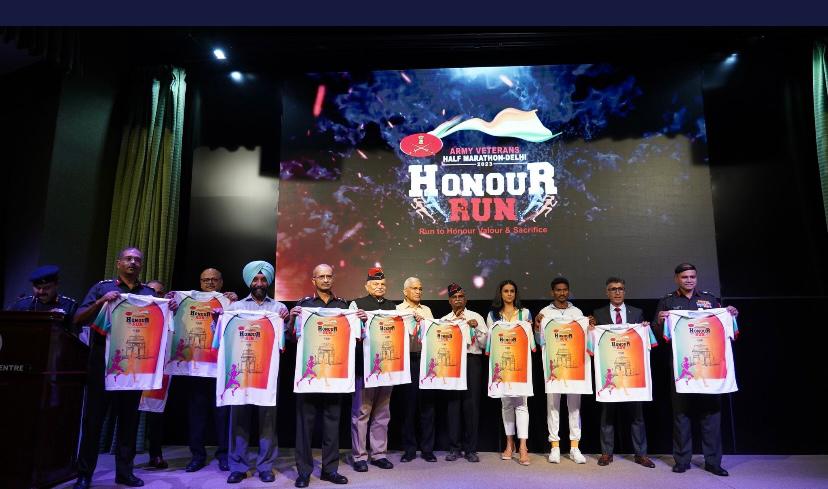 Taking place during the Kargil Vijay Rajat Jayanti Year, the Honour Run holds even greater resonance. This initiative stands not just as a run but as a heartfelt tribute to our Kargil heroes, becoming a crucial part of the Rajat Jayanti commemoration series. The presence of renowned personalities, including the Golden Boy Avinash Sable, Maj DP Singh, the First Blade Runner, Vishal Batra, brother of Captain Vikram Batra, PVC, and fitness advocate Gul Panag, signifies the vast support and excitement surrounding the Honour Run's noble mission.
The official website for the Honour Run was launched today. Indian Army has extended an invitation to all citizens to register and join in this event. Participation of maximum citizens will play a direct role in supporting the welfare of our veterans and their Next of Kins. With esteemed sponsors like SBI, Hero MotoCorp, and several others backing the event, it is ready to drive a significant impact.
India will run with soldiers & veterans, for the veterans. Pledging this commitment, every rupee raised is planned to directly contribute to the well-being of the veterans and their families.
Source: Army Authorities